The battle is on! In order to consolidate our understandings of position, we have decided to invade North Star Public School with our impressive newly formed Bradbury Navy. Twitter Battleship has begun!
Over the coming weeks, our fine, brave sailors will be fearlessly led by the mighty Admiral, Lee Knowles. By his side will be his two fierce lieutenants, Isaac and Jonathan. As the rest of the motley crew have not risen to any real rank of privilege, they will be considered mere cannon fodder and be needlessly and recklessly sacrificed at the first given opportunity – with minimum gains expected.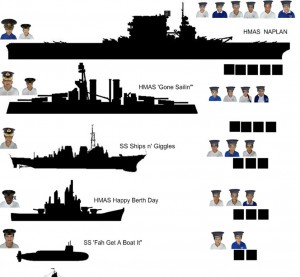 Shells will be fired daily using twitter. The coordinates will be locked in and we will patiently wait to see whether we have managed a direct hit. Cowards will not be tolerated and YOU WILL go down with your ship – unless of course you are me and are quite comfortable sneaking away under the smoke of battle with your pride still well intact.
Keep an eye on the blog in order to follow our progress.